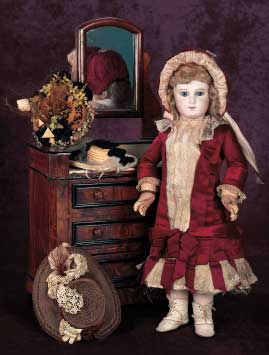 A gorgeous 24" French bisque portrait bébé by Jumeau quickly rose to $22,000 (pre-sale $12,000/18,000). The doll dresser was $1300 and three bonnets "topped" at $850.(Photo:Theriault's)


French dolls are, in general, more valuable and harder to find than their German counterparts. Finding a French doll that is both good condition and affordable for your budget is an accomplishment in itself. With their appealing large almond shaped eyes, long painted lashes and beautifully details clothing they will be the pride of any collection. Look for names such as Jumeau, Bru, Steiner, and SFBJ (a society of French doll makers).




Steiner Automaton

Jules Nicholas Steiner founded his doll company in 1855 in Paris. Many Steiner models are marked "Bourgoin". Bourgoin was an associate of Jules Steiner during the 1880's. The Steiner company was later purchased May Freres Cie, maker of the Bébé Mascotte. Steiner markings include: FI, Fire or Figure; Bte;Ste; SUCCe; S.G.D.G. All the markings usually include a size number and one of 4 letters such as "A", "B", "C", or "D".

Pierre Francois Jumeau began making "Poupée" dolls in Paris from around 1842 The Jumeau French Bébés are among the most beautiful and famous of the French. Jumeau dolls also include the "ED Bébé", the Paris Bébé", Character dolls,the "Bebe Francais, or S.F.B.J. dolls Markings of Jumeau Bébés include the more common "Tete Jumeau" stamp, and a red artist check mark. Early Bébés are seen with the mark "E.J." and a size number. Carrier Belleuse, a French scuptor designed the Jumeau Triste (Triste means "Sad" in English). Many Jumeau dolls are found unmarked.