Crochet Bonnet for tiny dolls

It can be a challenge to make clothing for the tiny dolls. I found this site with great step by step pictures on how to crochet a cute bonnet for a very small vintage doll:
Check it out HERE - scroll down the page to see the pictures.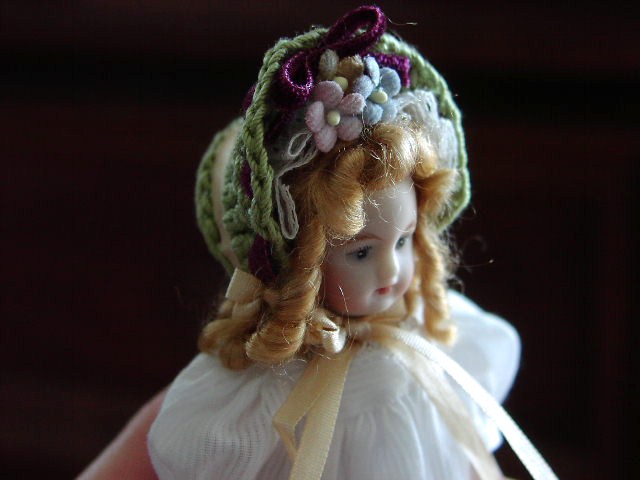 "I love to sew and that's what attracted me to dolls in the first place", wrote a collector recently. If you feel the same way, here are some wonderful choices coming right up this weekend at Theriault's antique estate doll auction. Please note our new crossroads location at the BWI Marriott, chosen for your easy accessibility whether driving or flying in. And here are some choices you might consider if dressing dolls is your passion. And some dolls that are anxiously waiting for your sewing skills! Of course, if you prefer your dolls already dressed and ready-to-go, there are wonderful choices a-plenty. Here are some of our favorites – great dolls in antique costumes. Collecting miniature all-bisque dolls is a delight. Their tiny size is enchanting, and then you look at their faces and realize how unique each is. Different expressions, delicate or rosy complexions, great big eyes or dainty half-moon slivers of eyes. Wonderful painted boots - or bare feet with little toes - so many variations were made. At auction I saw some lovely little French dolls and an exceptional collection of early Kestner all-bisque dolls in 8"- 12" size. They are so very rare. Expensive in their making so few children could ever have been privileged to own one, and then, how very few survived the tumble from a child's not-so-nimble fingers? It was 1908 and the world of dolls was in an uproar. Newon the doll scene was the new "art character" doll. It was the doll as art, the doll as a realistic portrait of a child, just like a canvas portrait. And, it had doll makers asking themselves, what canvas portrait ever had glass eyes? Almost overnight the world of dolls closed its eyes on glass eyes and set its sights on "the painted eye".

Eyes were painted upper glancing, down- glancing, slightly askew, googly, or even winkish. Their color could be shaded or even multi-hued. The sockets could be flat, defined or even so deeply intaglio-cut they seemed intensely real. Whichever, the dolls had a character expression that was unachievable in their glass-eyed cousins.

And what became of the painted eye movement? Sadly, the doll makers had miscalculated the desires of children who, after-all, preferred the "real" glass eyes. One by one, the painted eye models were abandoned or else modified for insertion of glass eyes*. By 1914, a mere six years later, the painted eye movement was all but over, leaving today's collectors with only rare examples of these dolls as art.